Like commenter waltons and some others, I also wondered what modifications, if any, were actually made to the BAR in response to the not terribly favorable reports from the field prior to the expansion of its use in later conflicts. Sigivald notes that most of the complaints in these weren't every really addressed beyond maintenance and "not doing week-long trench assaults."
That reminded me of a picture we scanned that gives context for the kind of terrain where you would find these rifles. This picture is dated September 11, 1918, so it is about a month before the memo was issued requesting feedback on the guns, but about two weeks before the 79th Division (which included the 316th) would be arrive here.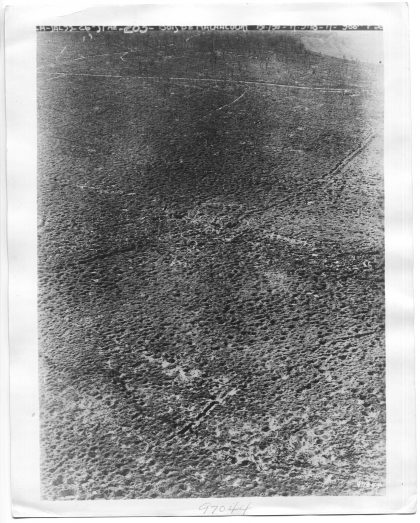 The caption gives no estimate of altitude of the plane taking the photo. Regardless, you can see how small the trees appear in comparison to the shell craters. Oh, did you even notice the trees and trenches among all of the craters? Look closely at the full size by clicking on the image. Now think about all of that being mud, given that some of those reports mention days and days of rain.
While there were pretty universal complaints in these reports, this photo gives very important context that we weren't exactly using them in any kind of conditions regularly experienced during the design process. Honestly, I don't see how most guns would stand up to such extreme conditions and work particularly well without people focused on their maintenance nearly 100% of the time.
This is certainly not the first battlefield photo I've ever seen from WWI, but still, just wow. How does France even exist today after all of this destruction in WWI and so much again in WWII? I guess it's a handy reminder that both mother nature and people are pretty damn resilient.
In related news, if NARA would allow me to bring my sleeping bag past security, I could move into the Still Pictures Research Room for at least a week and never get tired of exploring. They have giant card catalog files that are divided by topic, and excellent finding aids for an amazing variety of topics. Want to find photographs of WWI anti-aircraft guns? Oh, just flip through the card catalog and you'll find all sorts of photos to pull and peruse. (These are on the list for a next visit since one of Sebastian's great grand uncles served in an anti-aircraft unit during The Great War.) The Matthew Brady collection? They've got that, too. I just wanted to pull open each drawer and go through every topic imaginable. I didn't even make it to the Motion Picture floor to see what exciting things can be discovered there.