Jun 6, 2014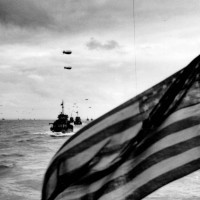 There are quite a few neat things that have popped up to honor the 70th anniversary of the D-Day invasion. One that stuck out to Sebastian was this collection of "then and now" photos from the Normandy beaches.
On Twitter, Charles C. W. Cooke has been sharing a fantastic collection of historic photos from the invasion. This is one that stuck out to me.

A plasma transfusion. pic.twitter.com/E1tFIjhM5f

— Charles C. W. Cooke (@charlescwcooke) June 6, 2014
From NRA, Life of Duty has a piece where 94-year-old paratrooper John Perozzi visit the invasion site. He was shot during the invasion and still carries that bullet in him today, yet he recovered and went on to fight again, including at the Battle of the Bulge.
I have been interested in the BBC's posting of current British celebrities reading BBC News scripts from June 6, 7, & 8th.

I know there are many other tributes online today, and I'd love to see any favorites from readers today in the comments.
4 Responses to "70th Anniversary of D-Day"