May 6, 2015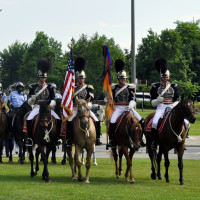 Once upon a time, Sebastian compared the historical concept of a militia to something like that of a modern volunteer fire department. I thought that was a pretty good analogy at the time, but since then I've learned that Philadelphia actually has a private military organization. The First Troop Philadelphia City Cavalry is a purely volunteer, privately organized cavalry troop that has been called into federal military service as needed since 1774.
Our opponents in the gun control movement have often derided the idea of "private militias," even though they played a significant role in the founding of this country. The history page of the First Troop notes that even though they had been operating in defense of  Philadelphia alongside the Continental Army, it wasn't until 1811 that "a law was passed authorizing a regimental organization of the cavalry." They weren't even incorporated under state law until 1863.
Today First Troop requires prospective members to also be currently serving in the National Guard, but reading the troop's history page is an interesting look back at volunteers who felt a duty to country and community. As our founders understood it, the concept of a privately organized citizen militia was not about "insurrection," as our opponents claim, but about service.
2 Responses to "Modern Day Philly Militia"