I really wish that the anti-gun groups would take an actual detailed account of how many participants they have their anti-NRA protests for annual meeting each year so we could compare. Somehow, I don't think their graph would look like this one.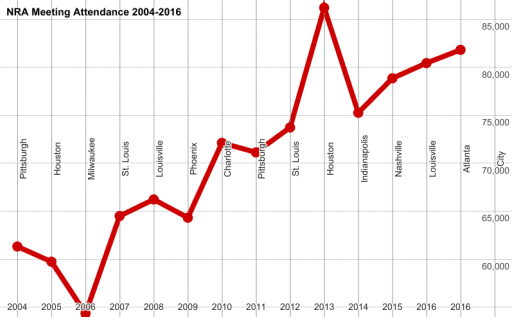 This is based on data I've been tracking since I attended my very first NRA Annual Meeting in 2004. (I just realized the error in the title with the years. I clearly forgot to update that, but the numbers include Atlanta in 2017, even though that also says 2016 at the bottom. Sorry! It's fixed in the spreadsheet for next year…)
Other data points that I keep in the spreadsheet that aren't in this chart is how much the NRA annual meeting has grown since that first one I attended way back when. It's now 33.5% larger in terms of attendance compared to Pittsburgh 2004. Each time we revisit a city, the number of attendees has gone up between 14% and 44%.
It's almost like the more that people learn about what NRA is really doing, the more they are on board.