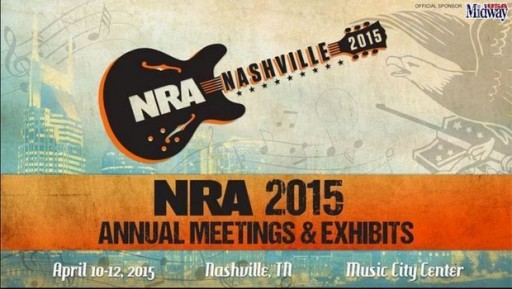 As is our tradition, we try to be the blog to turn to in order to get the very important NRA Annual Meeting attendance figures. But because Nashville is so close to the fly/drive line, and we chose to drive, we had to skip the NRA Board meeting this year where they announced the figures. Fortunately we managed to get someone who would be attending the meeting to send us the figures.
We place Nashville up there with Houston as a convention city, and the attendance numbers reflect that. There were 78,865 attendees at this year's meeting! How's that compare to previous years? The record is still Houston, Texas in 2013, with a total attendance of 86,228. That was the meeting right after Sandy Hook, when the blame and shame machine was running full tilt against the American gun owner. Last year's figure in Indianapolis was 75,267. Nashville this year was the second highest attendance figure in NRA's history.
You can see from Bitter's graphic last year, the meeting continues to climb along roughly the same slope, with post-Sandy-Hook Houston being a statistical outlier. I find this funny because that's kind of how things have worked with traffic for this blog, with 2013 being an usually high year for traffic, and then returning to historical norms.
One thing I want to mention, because we ran into some friendly bloggers and media on the issue: be sure if you attend with media credentials to also register as an attendee. Media creds don't count for attendance figures, and there was one meeting (I think Pittsburgh in 2011) where we came within a few hundred persons from the previous record.