In 2009, there were more eligible voting members of NRA than at any other time since I've started keeping detailed records of the votes. A total of 1,549,130 members were eligible either as life (or higher) members, or as consistent 5-year+ annual members. Here's a breakdown based on a chart I posted earlier in the year that looks at whether or not NRA members really vote.
| | | | |
| --- | --- | --- | --- |
| Year | Ballots Cast | Ballots Not Cast | Ballots Sent |
| 2006 | 79,227 | 1,468,502 | 1,547,729 |
| 2007 | 99,785 | 1,443,256 | 1,543,041 |
| 2008 | 94,361 | 1,452,174 | 1,546,535 |
| 2009 | 93,472 | 1,455,658 | 1,549,130 |
As you can see, there was a slight decline in the number of ballots cast even though more members were eligible to vote, leaving us with only 6% of the eligible members returning a ballot at all.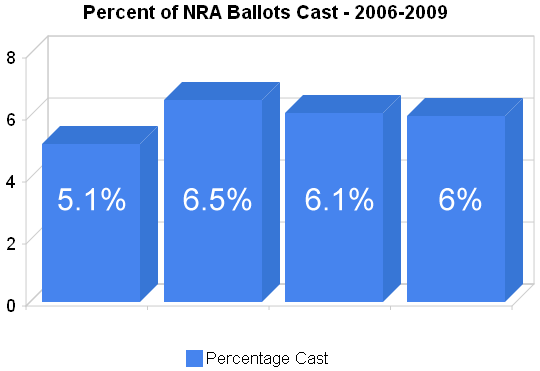 This matters because the difference between the "last winner" and the "first loser" was only 725 votes this year. If you really care about a candidate, your vote and those of your shooting buddies can make a difference. (Even if a candidate loses, how well they place in the "loser" category often determines if members will support them in the election of 76th director that takes place at the Annual Meeting.)
With all of that said, our endorsed candidates did very well given the number of "celebrity" names on the ballot this year. Ronnie Barrett came in third, Robert Brown in seventh, Scott Bach in twelfth, Edie Fleeman Reynolds in thirteenth, Steve Hornady in fifteenth, and Joe DeBergalis in eighteenth. In fact, all of our endorsed candidates outperformed the new NRA president (Ron Schmeits) who came in at 19 – in the bottom third of candidates. Two of the candidates even outperformed the now past president and next president.
But many may be wondering about the status of George Kollitides, the candidate I raised questions about during the election given his lack of involvement. AR15.com leaders who endorsed him and came on to defend him appeared to be completely unaware that Kollitides wasn't showing up for committee meetings. Well, he lost. In fact, he came in dead last – far beyond all of the other candidates.
"Losing" Candidates
Vote Tallies
Difference from
Previous Candidate
Donn DiBiasio*
61,188
725
Steven Schreiner
60,688
500
Robert Sanders**
59,561
1,127
Todd Walker
57,130
2,431
George Kollitides
49,855
7,275
*Another Board member resigned after ballots went out, so Donn fills his seat.
**Robert was elected at the 76th Director.
As you can see, the members really smacked Kollitides down in the election. As I mentioned to someone at the Meeting, I don't think the whole buying advertising in American Rifleman went over very well – it came off as trying to buy a Board seat. Considering what we know about his attendance, there's little he could fall back on to counter that claim. Add in the Chrysler bailout, and there's suspicion about him which I don't think is completely misplaced since he, according to industry sources, never does interviews. If he refuses to talk to NRA members and their main media outlets, then who is he accountable to in the course of his service? It's a fair question. Clearly, the members don't think he answered it.
In other news, I am a little surprised by the performance of two "celebrity" Board members. Richard Childress won the final seat on the board, and John Milius came in just two spots above him. I would have expected that NASCAR (Childress) and Red Dawn/Rome (Milius) would bring them more votes.