However many paid activists Shannon Watts flew in doesn't even begin to compare to the number of NRA members who engage with their association by voting in our group elections.
It's a reminder that we're a real, authentic grassroots movement of gun owners who can hold our leaders accountable. "Members" of Bloomberg's various groups can just unsubscribe from their emails at best.
I've already added this year's numbers to my magic spreadsheet of voting data that goes back to 2006.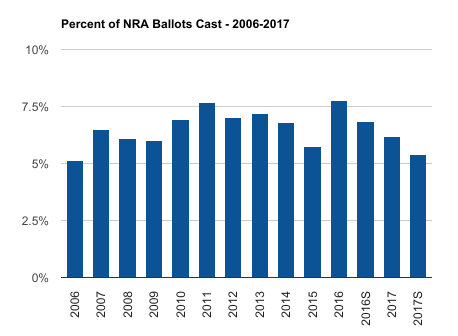 It's not the lowest voting participation rate that I've ever documented, but it's definitely close. However, it's probably not a complete surprise since the number of ballots mailed in elections has increased 42% in that time. (And that even takes into account the year I think they cleaned up the mailing list since the number dropped to an oddly perfectly even number.)
That said, I do think it would be nice to get more members voting. However, if that comes at the expense of experienced activists who work with NRA members on the ground to more celebrity candidates, then I'd be more hesitant to endorse that idea. Even today, I saw people advocating on social media for people to go vote for 76th director hours after polls closed for the entire session, so clearly voter education is an issue.
The rate of errors that resulted in invalid ballots went up this year (3.4%) compared to last (2.8%), but it's far below 2013's error rate (8.7%). This year's top mistake is the same as last year – too many votes. Count, people. After that, the biggest mistake that kept nearly 1,000 ballots from being counted is the lack of a signature on the envelope's authentication portion. Were you one of those people? If so, pay attention to your envelope. And somehow 24 people managed to find a ballot from a previous year and vote. Who are you people?? It's not just that you kept them, but you actually found them and managed to cast them during the right time period. That's special effort right there.
Perhaps the most interesting stat of the 2017 election year is the fact that I've never recorded such a close vote tally between the "last winner" and "first loser" – just 146 votes between the two. That's less than half the votes of the previous closest amount, 356 in 2012.
It's no surprise that Tom Selleck is the top vote getter this year. About 85% of voters included him on their ballot. He was nearly 20,000 votes higher than the next one in line, Peter Printz who even beat out R. Lee Ermey. The "last winner" is my favorite Olympian, Kim Rhode Harryman. She'll actually be on the ballot next year because she was elected to finish an unexpired term.
I am a bit PO'd that they ran out of "I Voted" buttons this year. I was trying to start a collection, NRA! Now you Atlanta conference planners have ruined my plans to express my grassroots-iness. Excuse me while I go drown my sorrows over my ruined conference in a glass of wine.