One of the best reminders that NRA really does represent a real grassroots movement is that members directly elect the board of directors. There's a clearly defined way to become a voter and the results are published openly.
I've added this year's numbers to my collection of NRA voting data. There are a few interesting differences this year over previous years.
The number of voting members who were sent ballots has increased 36.5% since I started keeping track in 2006. Most of that growth has happened since 2011 when there appears to have been a cleaning of the rolls.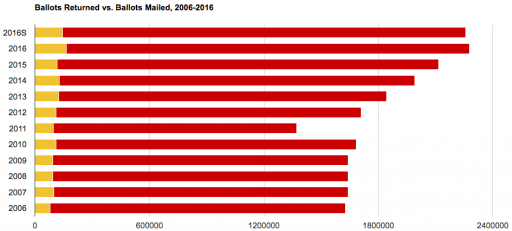 The yellow bar is how many were mailed back vs. how many were mailed in red.
2016S represents the special recall election of 2016.
The number of voters actually participating in the elections is, unfortunately, not very high and not growing substantially. But given that we have a growing problem of too many celebrities and are losing activist leaders with diverse skills, this may not be a great number. It would probably be better to see more informed voters rather than increasing numbers of people voting for any name they vaguely recognize from popular culture.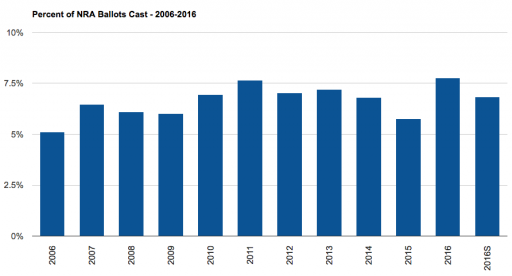 Perhaps one of the most interesting statistics is the fact that "last winner" was on a fewer percentage of ballots than ever before. The same was almost true for the top vote getter as well. (Technically, last year's top vote winner, Ronnie Barrett, was on a lower percentage of the ballots, but not by much.) Those two numbers indicate to me that more voters are more likely bullet voting – voting only for a handful of candidates instead of all 25 slots. That's actually a much smarter way to vote if you're interested in getting key candidates on the board. Increasing the votes of those who you care about less could end up hurting your favorites on the ballot.
Another good number from this election is that the percentage of invalid ballots is still low – 2.79%. That's compared to a high of 8.71% from the years I've been tracking. The most common mistake is marking too many candidates. But the next highest mistake is an easy one to fix – remembering to sign the envelope before you seal it and mail it. A whooping 723 voters didn't have their ballots counted because of this authentication error.
Perhaps the most important thing to consider is what a difference only a few votes makes. The difference between the candidate who did make the 25th seat and the one who did not was only 841 votes. That's a number smaller than some 100% NRA clubs. Votes do matter, and I loved that NRA started giving out buttons to members who took the time to vote in the 76th director race. If they keep doing that, you know I'm going to start a collection and wear them on my pass each year. :)