On Saturday, we reported on Moms Demand Action's flop of a protest. Watts had claimed there would be 400 in attendance, and by our count there were at best 150 people. The Guardian incredulously claims  there were 500 protesters in attendance, even though no one else would claim that. Bob Owens' shot from the bridge shows better than anyone else's that number is an ouright fabrication. Miguel explains the heaping helping of trick photography Moms Demand uses to bolster their bogus claims. But nontheless, the real measure of success or failure is how successful Shannon Watts was at bringing forth the media to write stories.
Certainly we saw a lot of reporters there at the protest, and cameras abound, but as of this morning this is all that appeared on Google News: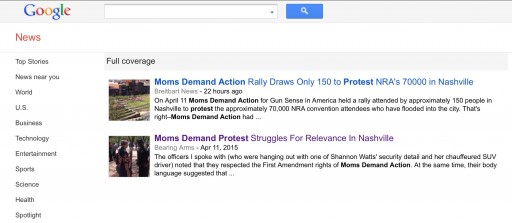 The first story is from Breitbart News, and the second Bob Owen's article. I could fine one other casual mention of the protesting moms on ABC News, but other than the Guardian piece linked above, as best as I can tell it's crickets. I spoke with someone who said they had been watching the news broadcasts to see if there was any coverage, and there wasn't.
So without oxygen from media outlets, it's pretty apparent that Mike Bloomberg would have done better to pile up all the money spent on planning, busses, hotels, Â t-shirts, signs, and box lunches, and burned it. Shannon Watts protest at NRAAM this year was an epic failure.
Hat Tip to Gail Pepin for the best photo of Shannon Watts ever which appears as the "featured image" of this post.