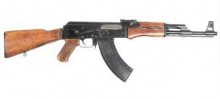 This new poll result, which shows 61% of Americans opposed to assault weapons bans is great news. Support is falling even among Democrats. Hopefully will help efforts to prevent gun control advocates from building that "West Coast Wall" by convincing lawmakers in Washington and Oregon to pass a ban on assault weapons. It should also, hopefully, forestall Bloomberg from thinking balloting a ban is a smart investment. Gun control groups will probably try, but it takes money to get the signatures, and money to con convince the public, and if Bloomberg isn't willing to spend millions to achieve that, they don't have a prayer of doing it on their own.
I think two things are going on. First, gun control got a boost from the psychological damage and ensuing hysteria after the JFK, RFK, and King assassinations, and that's worn off, prompting a reversion to traditional American attitudes. Second, it's become obvious over time that gun control is a dumb political gimmick, mostly designed for virtue-signaling at the expense of flyover rubes.
I think he's that's largely correct, but my worry continues to be that while national numbers like these are good news, what matters more is where people of this opinion are concentrated. For instance, if all those Assault Weapons Ban loving Dems were concentrated on the West Coast, they could get their wall, especially if Bloomberg is willing to spend big. And while I believe the effort of the Colorado recall heroes probably saved Colorado from more gun control for quite some time, demographic trends there aren't good long term for gun rights. I certainly believe there are states in which the gun control movement will never make real gains: essentially any state where Democrats aren't that competitive. But they stand to make real gains in states Dems are competitive in provided there's a lot of geographical concentration of like opinion, and no real ability for gun vote to change much (e.g. California). I'd love to see more geographic-centered polling on this issue, because that's ultimately going to determine whether the gun control movement has a shot at flipping a half-dozen or so more states into their column.