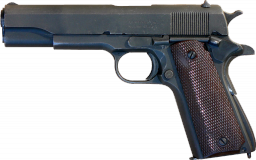 This is probably old news by now, but since I wasn't following along, it's new news to me. The short of it is that Obama signing the National Defense Authorization Act means:
Concealed carry options for our soldiers.
CMP Sales of surplus 1911s.
Prohibits EPA from regulating lead ammunition.
I'm pleased with this development, but to me the big prize would be to require the military and all other federal agencies to sell surplus ammunition to the public. The Clinton Administration ended surplus ammunition sales years ago, and we've never gotten it back.