Two years ago today, mock stories appeared in the April Fool's Day edition of The Outdoor Wire, and one stuck out at me as more of a potential prediction than a joke:
Brady Center Ceases Operations
Blames SCOTUS for "dwindling finances and shrinking support"
Washington, D.C. – "We fought a hard fight, and lost. The people have spoken." That's the terse explanation offered up on the Brady Center's website, announcing the dissolution of the longtime organization. An overwhelming majority decision (7-2) by the Supreme Court in 2008 that affirmed the individual right of firearms ownership led to a sweeping nationwide rejection of anti-firearms legislation and a precipitous decline in Brady Center financial support. As the Brady organization crumbled, the National Rifle Association and other pro-gun groups saw memberships and coffers swell, allowing the NRA's legislative action group to challenge and overturn what the NRA-ILA has described as "ridiculous" or "unenforceable" laws nationwide.
It's possible that the only things wrong about this silly joke were the vote count (we won by 5-4), the Center closing shop before the Campaign, and the timing.
Looking at the Brady Campaign & Brady Center form 990s from 2004-2008, there is an unmistakable trend that may herald the real need to write the "joke" headline. Consider that the Brady Campaign – the legislative arm of the gun control organization – has seen donations drop off by more than 53% from 2004-2008. (The latest data available is from 2008, as 2009 tax documents are likely being filed now.) Total revenue that factors in revenue from assets and investments as well as the donations, is off slightly more – by more than 54% in the same time period. Unfortunately for them, the Brady Campaign has not been as successful at slashing expenses.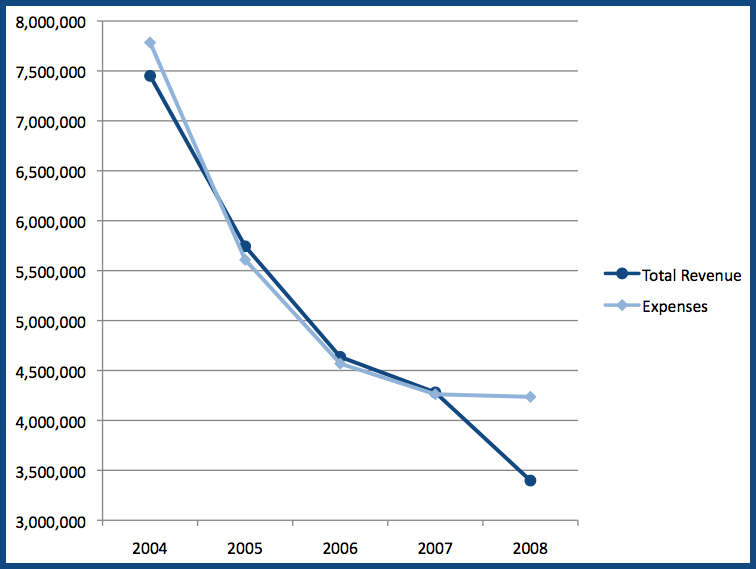 All I can say is ouch. That's gotta hurt in a big way. I'm going to assume that the leveling off of expenses means they have slashed as much as possible without cutting significant staff or consultants. Obviously, that will have to change. A drop like this can't simply be blamed on the recession, especially since the drops started two years before the official start of the downturn. (I don't have data prior to 2004, so the drop may have started long before then.)
But upon seeing this, I suggested to Sebastian that perhaps they were re-aligning and putting more staff onto the Brady Center's payroll – that is, their foundation division. It's amazing how changing a few words can make it so you're no longer lobbying for change, but merely educating lawmakers about the issues. Yes, it's perfectly legal. To find out, we opened up all of their 990s from the same period, 2004-2008.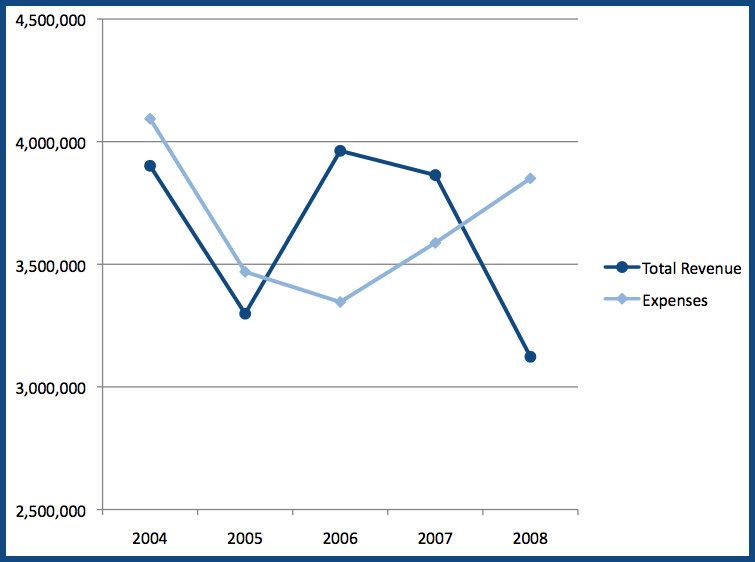 As you can see, they aren't having much luck, either. Total revenue is down about $800K over 4 years, and expenses haven't been consistently cut to match. The Center has been much better about keeping a nest egg of assets than the Campaign, but thanks to spending more than they receive in donations, even that cushion is down by more than 10% over the last 4 years.
In fact, at the end of 2008, the Brady Campaign was actually in the red by more than $450K. We can presume they spent 2009 fundraising like the devil and slashing expenses to make up for that, but it 2009 wasn't exactly a great year for non-profits with so much uncertainty in the economy. The Brady Center, as mentioned before, has done much better about making sure it has some money to fall back on, so they had just under $2 million in savings.
So I guess the real question is: In what year does the April Fool's gag of 2008 actually come true?