Jun 22, 2016
Apparently Sig Sauer is a shady company because Nazis. That is, if you're a know-nothing writer for Slate. Some of the crap the left believes about NRA, the gun industry, and gun industry profits would fit squarely into tin-foil hat territory if it were coming from the right:
My colleague Rachael Larimore recently noted that the media's reportage on firearms is often shallow and sloppy. I agree.
The author then goes on to finish an article that is both shallow and sloppy. Given that the Secret Service use Sig pistols, Kevin won the Internets with this one: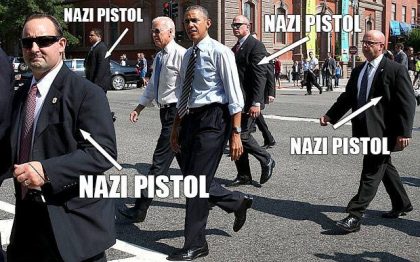 Bob Owens of Bearing Arms has more about this stupidity.
2 Responses to "The Stupid, It Burns"