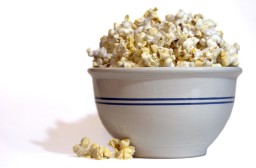 It looks like there's a developing war between Governor Terry McAuliffe and Mike Bloomberg's Everytown. I'm going to grab some popcorn and enjoy this. Nice, well-salted and buttery popcorn, with a 32oz soda to wash it down. This is better than Godzilla vs. Mothra. It's good to have things like this that can make blogging fun again.
Brian Coy spoke dismissively of Everytown for Gun Safety, which is associated with former New York mayor Michael Bloomberg, as a "group from New York" that does not have the interests of Virginians at heart.
Ouch. That could just as easily come from a pro-gun Republican. In fact, I think that's what we've been saying. Still, I can't blame Bloomberg for spending a few million to buy McAuliffe's ear only to get spit on. Not to be outdone, Bloomberg is going to run anti-McAuliffe ads.
It's pretty well known that Terry McAuliffe has presidential ambitions, and I think his watching Hillary deflate despite the heavy emphasis on gun control might have convinced him that this current anti-gun fervor on the Dem side is a fad that's going to die with Hillary's campaign and Obama's presidency.