Enjoy the schadenfreude while it lasts. I'm not sure who deserves credit for this, but whoever came up with this, bravo: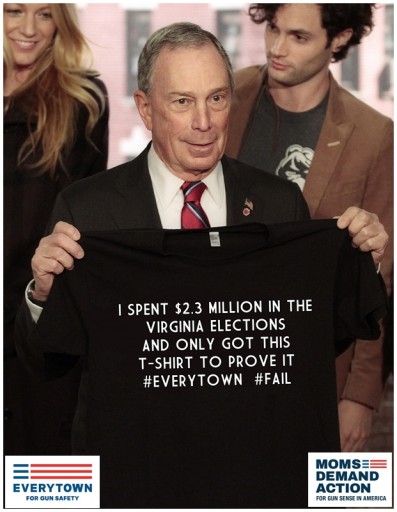 I first saw it on Miguel's site. Of course, it's pretty apparent Everytown and Bloomberg were gunning for the 10th district, but hedged their bets by doubling down on a safe race, so they could claim victory if they lost the important race. Hey, they spent more money in it anyway. Here's how it went this morning:
NRA defeated in their own backyard.

— Everytown (@Everytown) November 4, 2015
Followed up quickly by NRA's response:
Congrats, @Everytown! You spent $1.7M in a 63% Obama district and your candidate only got 54% #Virginia #fail https://t.co/nuifgjMdvm — NRA (@NRA) November 4, 2015
That seat was held by the Democrats already, and the retiring incumbent was D rated by the NRA. If NRA had spent that kind of money to hold a safe seat in a single state senate race, I would have called them out for spending irresponsibility if it was not a key race, or they had some reason to fear. The fact is, when you look at that district, it should be a cakewalk for the Democrats.