May 19, 2015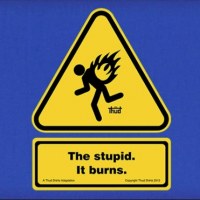 It's not surprising that the gun control community postures over current events, because those events can sometimes help drive their narratives. When a kid steals a gun from a parent and does something untoward with it, it makes their case that all guns should be disassembled into pieces and stored in underground vaults in the backyard. When one of "mom's little angel" teenagers gets ahold of a gun and shoots a few rivals and some bystanders, it's not necessarily crazy on the part of our opponents to presume that maybe some kind of vague, "stricter background checks," might find a sympathetic ear among voters.
But I have no idea what universe you think your average voter lives in to believe that if we only pass a few more background check laws, we can ensure that outlaw biker gangs are unable to get guns. That seems to be the narrative being floated by both Shannon Watts and her lapdogs in the media. Just look at what the LA Times has to say about one of the outlaw gangs involved in the Waco shootout:
Sunday's confrontation in Waco also appears to have started as a result of a dispute involving the Bandidos, one of the world's largest motorcycle clubs, with as many as 2,500 members in 14 countries, and one that's engaged in distribution of heroin, cocaine and methamphetamine, according to the Justice Department. One of their mottoes: "We're the people your parents warned you about."
Yes, I'm sure if we just stop people from privately transferring guns, outlaw biker gangs will be reduced to settling their differences through pillow fights and rock/paper/scissors. It's certainly not possible that a criminal enterprise, who already traffic in contraband, would have no problem obtaining guns or anything else they need to pursue their black market trade. But I think they really believe this.
Just recently, Everytown released a study showing that most people who shoot police officers are, you're never going to believe this, prohibited persons. This was in response to a police officer in New York being shot to death. It's almost like gun control doesn't stop criminals from obtaining firearms, isn't it? In the same vein, our favorite Brady Board member, over at her new blog, manages to account all the ways that Norway's strict gun laws failed against a highly motivated lunatic with criminal intent, and then concludes that gun control laws work!
They don't live in reality. Outlaw Biker Gangs aren't going to be disarmed. Motivated lunatics will find ways to get guns. The only people their policies succeed in disarming are the people you didn't have to worry about in the first place.
12 Responses to "There is Posturing and There's Outlaw Biker Gangs"