May 12, 2015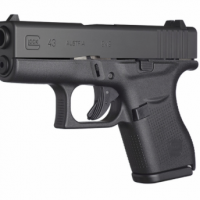 Bob Owens tossed this grenade last week, and I expected to see a lot more explosion. If there's anything that gets debate going faster than a post that people will take as "your gun sucks," I've never run across it. But it's largely gone by without much argument in the blogosphere. I noticed that Miguel agrees, and Glenn Reynolds did too.
But really, I wouldn't consider any response worth my time if the person isn't a trainer. Those are the people who see a lot of examples and have experience with the limitations of the people they train. The only experience I've had with drawing my Glock under stress has been under the stress of competition, and even that's been a while. I do regularly practice drawing with my finger indexed properly, but not under extreme stress, so I really don't know if I have enough experience to comment.
All I can say is I've stopped fingering triggers on the draw after I conditioned myself not to do it. What would I do under the stress of a deadly force scenario? I don't know, and I don't think most other people know either until it happens. That's why we train. I've seen studies about how fine motor control goes to hell when you have a bunch of adrenaline running through you, but if you look at things strictly through that lens, then we should all be carrying broadswords and battle axes, rather than handguns. Yet people do manage to successfully and safely defend themselves with pistols on a regular basis, including striker-fired pistols without manual safeties.
So you won't see me write up a lengthy post on why Bob is wrong, because to be honest, I don't have the expertise. I'm not a trainer. But I still plan on carrying a the same Glock I've carried since 2002. What do you think?
34 Responses to "Should Police Carry Glocks and Other Glock-Like Handguns?"