Dave Kopel wrote a wonderful article in the September issue of America's First Freedom about the fake narrative of just being a stay-at-home mom that Shannon Watts created for herself. He highlights her political work as the Missouri Governor Mel Carnahan's Public Affairs Officer during the same period that the governor was doing public events and public calls for gun control in the media, and yet Shannon claims she's never ever worked on gun control before. Sure.
Shannon isn't too happy about the fact that it uncovers her previous political career and work for a company hated by many of her followers – Monsanto – so she's fighting back, but not because she can actually refute anything in the article. She's getting women to argue with #MomsNotMaids because of the NRA publications department depiction of her.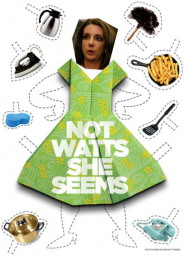 This is one of those times when neither party is right. (Except Dave and his excellent article, which will be sadly overlooked – exactly what Watts wants.)
Watts is wrong because she's effectively arguing that real moms don't clean their family homes. Um, hate to tell you Little Miss Priss Spoiled Girl, but the vast majority of moms do clean their own homes and know many of these little tools quite well. (Well, except for the rotary phone – that was a relic even when I was a child.) Making sure their kids live in a home that's safe and that they are fed is a very typical role for a mother, obviously not something that a woman as wealthy as Watts does because that's work for the maids.
Watt's vehement reaction against being portrayed as a woman who cleans a home is also inherently demeaning. What is wrong with being a maid? I know plenty of women – mothers, even – who clean buildings and houses for a living. Why does Watts consider a perfectly legitimate and honorable profession to be an insult? Again, this is illustrative of her stuck-up elitist out-of-touch Twitter rants.
On the other hand, whoever designed this little illustration for NRA is also in the wrong, too. Stay-at-home moms are a hell of a lot more than just cleaning supplies, rotary telephones, and nearly archaic coffee makers. I'm not even a stay-at-home mother, and I am insulted by this attempt to sum up their days like this. The stay-at-home moms I know today are frequently home-schooling their kids, getting the kids involved in many hobbies and activities, or are active in non-profit groups. Even the sit-com stereotypes of how stay-at-home moms get their entertainment (through the phone, in the illustration) isn't accurate for today if they were trying for a failed version of tongue-in-cheek.
The concept of a paper doll playing dress up for a part isn't inherently a bad illustration for Shannon Watts and her little effort to pretend she's not a paid professional with years of experience in Democratic politics and PR circles, but they didn't even do a good job of trying to creating a visual image of how one would dress up and fake being a stay-at-home mom today.
This comes on the heels of some really great media coverage of pro-gun women lately, and I suspect that's another reason why Watts is trying to make the NRA look anti-woman. Unfortunately, they gave her the bait to do it.