The funny thing is, they know they have to convince a fair number of gun owners to go along with their schemes, which is why a poster like this is just so damned full of fail: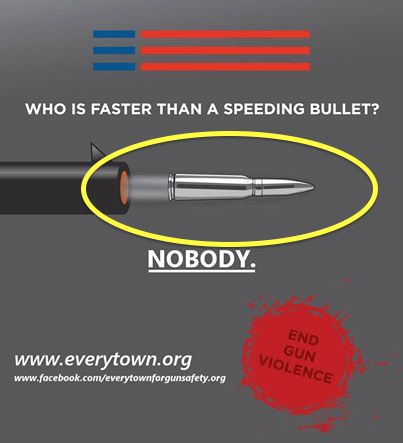 Something must be really wrong with that rifle if it's shooting out the whole cartridge like that. To enlighten our gun safety experts at Everytown, the bullet is the shiny thing at the end (they also aren't usually silver, unless you're hunting werewolves), and that's the only part that goes down the barrel. I kind of thing if you're going to lecture fellow Americans about "gun safety," you ought to at least get the basics correct. And notice that's a rifle bullet. I thought you guys were giving up on the whole "assault weapons" thing? And outrunning bullets is exactly what these folks expect us to try to do because they are strong believers in a duty to retreat.
UPDATE: Miguel has more background.