Since the Brady Campaign and Law Center to Prevent Gun Violence have released their 2013 scores, it offers an opportunity to examine the effectiveness of their policies. I've done similar analysis in previous years, but wanted to take a fresh look at it. My raw data can be found here, sourced from both the FBI's Uniform Crime Report for 2012 for crime data, and the Center for Disease Control's Death Statistics for 2010 for suicide and gun death data. First, let's look at violent crime: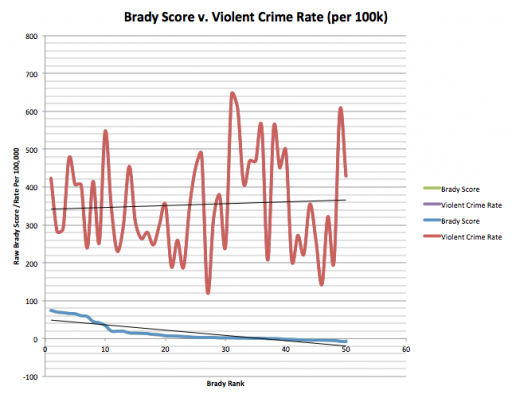 At first this looks like it might correlate, but the Coefficient of Determination (r2) for these two sets is 0.00009, which is statistically insignificant. This means you can't explain the variation in violent crime by the variation in the Brady Score for any state. There is no correlation between a state's Brady Score and that states violent crime rate. Conclusion? Brady policy is not effective at controlling violent crime.
So what about other crimes? Perhaps it can control murder? And let's not forget a favorite Brady tactic of including suicides in their statistics to justify their policies. How does that fare?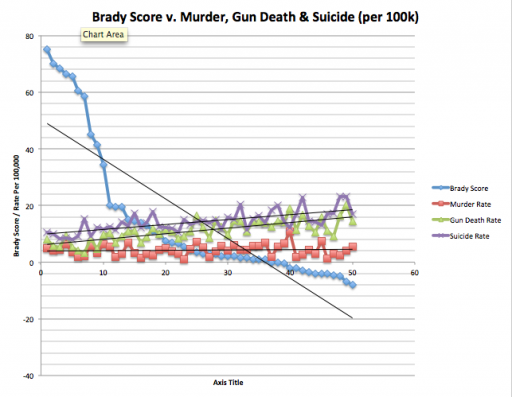 Even visually you can see there's absolutely no correlation between Brady score and the murder rate, and the statistical calculations bear that out. The r2 value between Brady Score and Murder is 0.004. This is not statistically significant, meaning that the variance in the murder rates between states is not explained by the Brady Score. The Brady folks do a bit better with their nebulous "Gun Death" rate, which is how many people die from gunshot wounds every year, including suicides. The r2 value between Brady Score and Gun Deaths are 0.52, which means 52% of the variation in the gun death rate can statistically be determined by the variation in Brady Score. This is statistically significant, and the correlation coefficient (r) is -0.74, which is considered a strong negative correlation (Brady score goes up, gun death goes down). They Brady folks do less well with overall suicide, which has an r2 value of 0.41, and an r value of -0.64, which is considered a moderate relationship. This would tend to suggest there is a considerable substitution effect if guns are not as available.
The overall conclusion I think can be reached is that Brady policies have absolutely no effect on violent crime or murder rates, and probably do not greatly affect the availability of firearms to criminals. Brady policy does have a strong effect on the ability of non-criminal citizens to purchase firearms, which is reflected by the correlation between gun deaths (which includes suicides) and Brady Score, and suicide overall. There appears to be a substitution effect of guns are not available, since suicide rates do not correlate as strongly with Brady Score as Gun Death rates. While there is a correlation between state data and suicide rates, international comparisons have found no link between gun prevalence and suicide rates.