Someone e-mailed today and mentioned the following:
Strictly speaking, the Bradys don't argue that gun control will lower violent crime, they argue that it will lower the rate of violent deaths by decreasing the effectiveness of the violent criminals (and by making suicide attempts less successful).Do you have any data on how rates of gun ownership correlate to murder rates (or even to violent death rates including all suicides)?
That much is true. I have heard gun control advocates claim this. I don't have suicide data readily handy (if someone knows a source, I can plug it into my spread sheet). I also suspect suicide will correlate some, because suicide by gun is more effective, and an option many will pick if it's available. That's why they use "gun death." Â I just don't think taking away dangerous things from people because they might hurt themselves with it is proper public policy for a free society, statistics be damned. But here's the murder charts: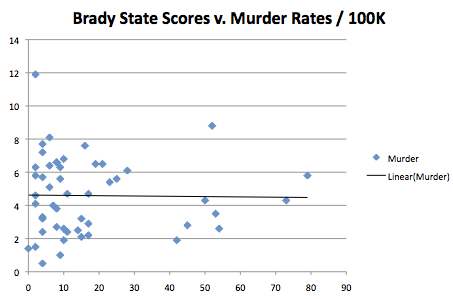 Statistically there's no correlation here. Plotting along X are the Brady scores, and along the Y is the murder rate per 100,000 population of that state. Also, if you look at gun ownership levels versus the murder rate, you get something similarly uncorrelated: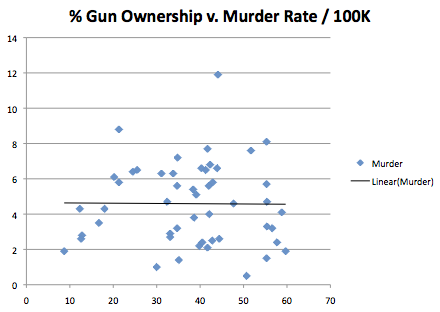 Here we also have no correlation. We have percentage of gun ownership as X, and murder rate per 100,000 as Y. Compared to gun ownership, murder rate is random noise. So what does the murder rate correlate to? I actually did run all these numbers, but did not include them in the original post, because it was rather long. Murder correlates weakly to poverty indicators, as does violent crime. It's uncorrelated with urban density, though Brady score is strongly correlated with urban density. I was surprised that urban density does not correlate with violent crime or murder. Not surprised urban density plays a role in how much gun control a state has.
The essential thesis stands. Gun control does not accomplish what it's advocated to do. The typical retort from gun control advocates to statistics like these is "Well, gun control in this country has never been tried." That might be true, but to the extent it has been tried, it's failed. Given the constitutional and political realities present in this country, it's an academic argument anyway. The types of gun controls promoted by the Brady Campaign do not work, unless they want to offer their own statistical model that shows it does.