Jun 23, 2013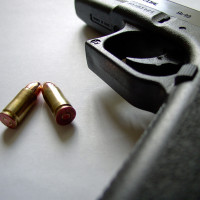 We've all been anxiously awaiting Part Two of Heidi Yewman's one month of trying to carry a gun. Apparently because the staff at "Ms." were overwhelmed with pro-gun commentary, and they are shocked (shocked!) to discover that some people on the Internet might be bozos. So they are shit-canning the rest of the story.
What was Kort's solution to this dilemma? Incredibly, it was to kill the rest of Yewman's series. "I don't think I should post the next two installments of this—they'll only fire up the troops again, and we're just not equipped to handle this on our blog," Kort wrote.
According to Ms. Kort, who is an Editor editor at "Ms.", the rest of the series will appear on the Huffington Post. In my career of dealing with presenting and arguing controversial viewpoints on the Internet, I can say it sometimes will challenge your faith in humanity. I can hardly blame "Ms." for censoring posts featuring the home address of the author, nor do I blame them for censoring truly nasty comments. But I can promise you those are a small minority of the comments that have been censored.
This is straight from the anti-gun playbook: censor dissenting viewpoints and shut down debate, then claim to be doing it because people who have a pro-Second Amendment viewpoint are nasty brutes who just want to bully and intimidate everyone. That has not been my, or anyone else's experience anywhere else on the Internet where dialog is not moderated and people are relatively free to have open discussion. Yes, some people on the Internet are poster children for the Greater Internet Fuckwad Theory. This is not news to anyone, and while I support "Ms." magazine's editorial discretion, I think bowing out of this is cowardly, and shows they are not committed to having any kind of real discussion on a serious topic.
15 Responses to "Ms. Magazine Wimps Out of Gun Debate"