Jun 11, 2013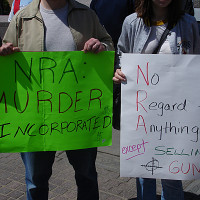 It looks like the Obama machine is trying to distract from the list of scandals piling up, and they are out to rally for gun control again. They've got several events in Southeast PA, specifically geared to drive photo ops for press.
If you're in Rep. Pat Meehan's district, why not give his office a call on that day and let the staff know that pro-gun voters turn out when it matters – at the polls. The number for the office to be protested is (610) 690-7323.
I'm curious if the turnout will be similar to this Illinois anti-gun rally.
UPDATE: Adding two more SE Pennsylvania events.
14 Responses to "OFA Out with Rallies in Pennsylvania Again"