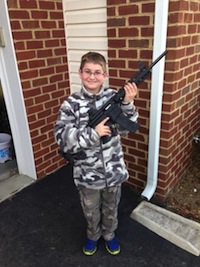 Over at The Blaze. Apparently The New Jersey Department of Youth and Family Services got wind of this picture and decided to do a raid. Showed up at the guy's house demanding access to the home and guns, without a warrant. The wife wisely contacted the husband, who wisely contacted his lawyer, who wisely advised him to tell the fuzz to piss off. They then threatened to take his kids.
The worker refused to identify herself. Mr. Moore demanded that she giver her name. She refused and ran away.

As of Tuesday morning, Mr. Nappen believes that DYFS is still pushing for an inspection, "which is not happening."
A lot of these family services folks are really no better than petty tyrants. This is what's going to happen to gun owners all over the country if our opponents get this way. New Jersey is about as close to the end game as we have an example of in this country. Gun owners there are pariah, and they are treated as such by every level of the government, who is used to getting away with this kind of thing. Our demands are pretty simple: the Second Amendment has to be taken seriously, and be given the same stature as every other right.
But in the mean time, when the cops show up at your house over a matter like this, the less you say the better. I recommend this doormat.