Miguel has a link to the latest CSGV protest at the White House. I count twelve people. Meanwhile, last week, we had our Friends of the NRA Dinner for Bucks County: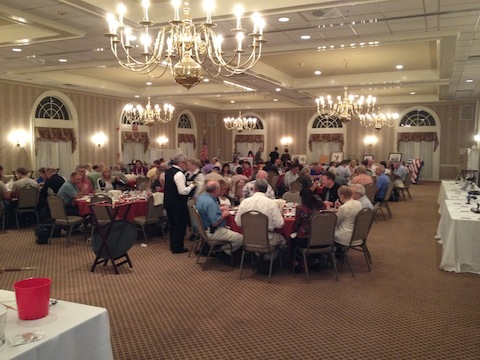 That's 81 people, who paid 45 dollars to show up, and then also forked out an average of several hundred dollars a person on games. Granted, this is the non-political branch of NRA — Friends of the NRA raises money to fund grants to support shooting sport programs, particularly youth programs run by groups like the Boy Scouts and 4H. In a single county, we can attract nearly 7x more than CSGV's White House protests.
And I'd note that our dinner is new, and we're hoping to grow it. Why? Because 81 is a sad turnout by Friends of the NRA banquet standards. The Liberty Bell Committee puts on a dinner in the City of Philadelphia that regularly attracts 250 or more. Chester County FNRA, hosting their dinner in Kennett Square, attracts 300 people. Montgomery County, also a new committee, but a few years older than ours, is up to 160. Biggest of all in Eastern Pennsylvania is the Lancaster Friends, who put on a dinner with 800 or more, such that they have to run the dinner buffet style, and keep it running all night so that everyone can eat.
The gun control movement in decline (GCMD?) keeps denying they are up against real people. NRA? A toadie for the gun industry who just wants to sell more guns. NRA is an organization that's brainwashed a small number of extremists. Guns are not a grassroots cause.
But the truth is that a small number of extremists would seem to more accurately describe their movement than ours.