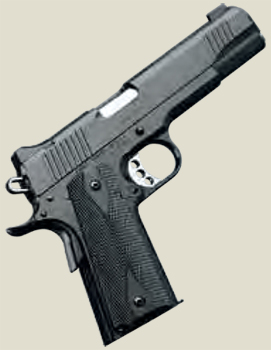 TICKETS SOLD – sorta, see below for update
Our Friends of NRA committee is giving away three of them in a limited raffle. You can win a Kimber Custom II, Kahr 1911A1 Parkerized, or Remington R1.
3 Guns ~~~ 200 Tickets ~~~ 20 Bucks
Anyone who buys tickets has incredible odds. Presuming we even sell all of the tickets, that's about a 1 in 67 chance for only $20. If we don't sell all of the tickets by the end of the day on Oct. 15, well, your odds go up.
All money raised goes to support the NRA Foundation programs – the shooting stuff, not the political stuff. So if you want to help us reach more junior shooters and more women, then take a chance and buy a ticket.
If you'd like a ticket, then shoot me an email and we'll make arrangements for payment and mailing the ticket stub/receipt to you. If you're not in the Philadelphia area, you will have to arrange shipping for the gun to be sent to an FFL near you.
UPDATE: Some folks have asked about how the gun selection will go for the three tickets drawn. The first ticket drawn wins the first gun on the ticket – the Kimber. The second ticket gets the second gun – the Kahr. The third ticket gets the final gun listed – the Remington. Also, as a reminder, the winner is responsible for either picking up the gun from the local FFL here in Bucks County, Pennsylvania or responsible for having it shipped to a local FFL.
UPDATE II: If you have commented or emailed and haven't received directions from me on how to purchase, then it's because I'm in a holding pattern with tickets. We are thisclose to selling out the raffle now. I am technically out of tickets. There is one committee member left with some, but she believes she has likely buyers. If I find out that she has not sold out by the date of our banquet, I'll see how many she has left and start responding again. So, for now, hold off on comments and emails. Even if she can't move her remaining tickets, I like have enough buyers who will take them off our hands after next week.