It's past that time of year again! Our local Friends of NRA committee has a three gun raffle going on, and you have the chance to win since we have lots of tickets available.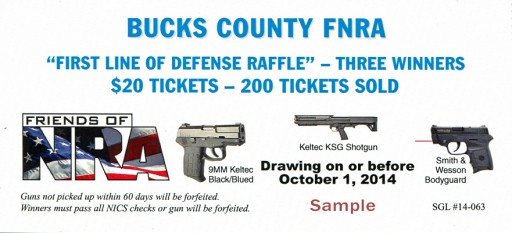 Tickets are $20, and we're drawing three times, once for each gun. That's a 1 in 67 chance to win one of these guns for each ticket – assuming we even sell out. (We have in the past, but raffle tickets aren't the hot ticket item this year, oddly. It's been our banquet tickets.)
If you'd like to purchase a ticket, email me (address on the upper right) ASAP and I'll send you the details and where to send a check. If you'd like to pay by credit card, email me and let me know so I can make sure a trusted committee member can take your call to get the information. (I know. I wish we had online ordering, too. It's not something I can fix beyond airing my complaint which I know goes in one ear and out of the other with our Field Rep rather than getting passed on to HQ.)
I will say that for each of the past two years we have promoted raffle tickets on the blog, readers have won. In fact, last year saw two blog reader winners. That doesn't mean the same will happen this year, but I just say it to show that we really do give away the guns. :)
The fine print, so to speak: Winners will be responsible for picking up the guns from the local FFL or arranging transfer to their own FFL. Winners must pass appropriate background checks and will be responsible for any fees regarding the transfer.
All money raised goes to support the NRA Foundation programs – the shooting stuff, not the political stuff. So if you want to help us reach more junior shooters, train more women, or help out clubs that need some help with improvements for shooters, then take a chance and buy a ticket.