Joan Peterson mistakes a zombie for a "black man," and then proceeds to be horrified that zombies are an largely just fun and games, and became an internet meme, just like lolcats. I can't recall when the zombie internet meme actually started, but it started as a joke. The earliest stuff I can remember being this: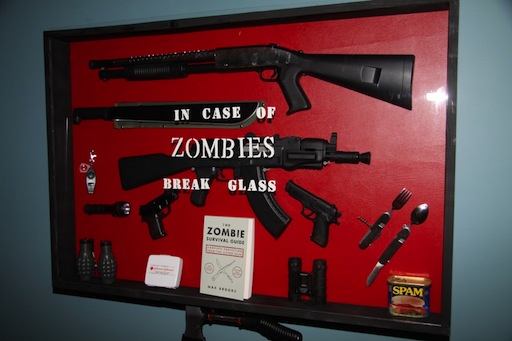 It doesn't have to be your humor, but this stuff was all over the Internet several years ago, and started, if I recall, largely outside the shooting community. Then some clubs started doing zombie shoots. A club near me had one each halloween and it was very popular, and a lot of fun. You get that Joan? Fun! Some people think shooting is fun, and shooting at zombie targets on halloween? Double fun!
Why is this so hard to deal with and understand? If shooting wasn't fun, many of us wouldn't be so energized by this issue. Imagine how it feels for us. It would be like being a golfer, and having petulant busybodies constantly trying to limit access to golf courses, country clubs, and golf clubs, all the while talking about what scary, horrible people golfers were. This is exactly what you people are doing applied to another pastime. Is it so difficult to understand that in a free society, different people have different ideas of fun and humor? Shouldn't those who value a free and tolerant society embrace such diversity of thought and pastimes? The only answer I can come up with is that Joan and her ilk value neither freedom, tolerance, or diversity, if it people happen to enjoy things they don't understand or approve of. We have a word for people like that.
Personally, I think the whole zombie thing has jumped the shark. It's gotten old, and at this point even I'll agree the joke isn't funny anymore. But I get how it started, and kept going. Even the Puritans had more of a sense of humor than the anti-gun folks, geez. It reminds me of an old saying about people who wake up in the middle of the night in a cold sweat, terrified at the prospect that there might be people out there having fun. It would seem for many of the leaders of the anti-gun movement, this is an accurate description!