Our opponents at the Brady Campaign, and other places, are fond of saying that the United States would be the safest country in the world if it were true that more guns meant less crime. They often cherry pick data from favored European Countries, and hope no one bothers to look at the whole picture. Thanks to the folks at Lucky Gunner, I decided to take a look. I'm using this data from the Small Arms Survey. We will take the most wealthy countries, which I'll define as those who have a per capita GDP of $14,000 or more. We will toss out any countries that are very undemocratic (Qatar, Saudi Arabia, Oman), or that have instability problems (Lebanon), figuring these countries don't have good incentives to report accurate crime statistics. That gets rid of most of the Middle East. We'll also get rid of very small countries, like Luxembourg and Malta, figuring they are very small, and because I don't want to compile that much data. We'll keep the focus on major, reasonably democratic and wealthy countries. I'll use the murder rate data found here. My raw data can be found here. But I'll show the chart: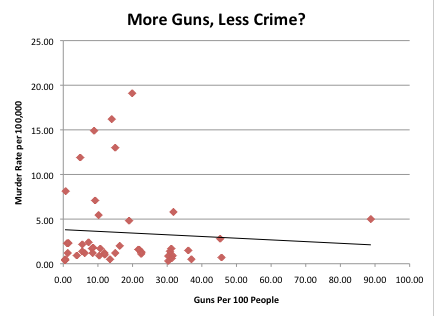 Each dot represents an individual country. See my data if you're curious about which countries. If you do an r-squared correlation on the data, it does not correlate whatsoever. That means there is absolutely no correlation between the number of guns in civilian hands in any given country and the murder rate. Murder rates and GDP correlate slightly, and gun ownership and GDP per capita don't correlate all that much either. Some might complain that I included African countries, which were above the cutoff I chose. That does not improve the correlation in the slightest if you get rid of them. Some might argue I kept the cutoff too low. If you draw the line above Russia, it improves the correlation slightly, but still no real correlation. If you draw the line at Hungary, you get some correlation. In order to get a strong correlation, you have to pretend that Hungary, Poland, the Czech Republic, and Portugal aren't real counties. In order to get strong correlation, you have to cut the number of countries down to the point where the US can give you the correlation you're looking for. If you just take the top European Countries (GDP/capita > 28,000) again, there's no correlation, with only a very slight downward trend.
In short, our opponents can only get correlation by using a very small sample size, so that the United States (which legitimately does have a very high gun ownership, and higher murder rate than most other very wealthy countries) can drive a correlation. If you use more objective criteria, you don't get what they want.