I decided to run the Brady State Rankings through Excel, and see if there was any correlation to violent crime rates. The short answer, no. You can see the scatter chart here: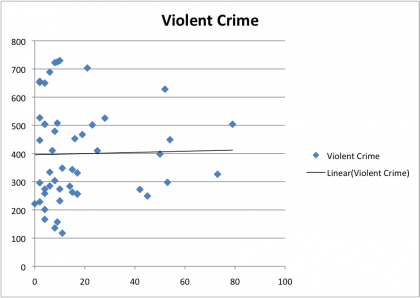 I'm no good at Excel charting, so what I did was plot the violent crime rate (per 100,000) for each state (y-axis) against its Brady Grade (x-axis). I've seen folks picking certain data from one side or another to support the assertion that Brady rank means higher violent crime. In truth, there's no correlation. If you run the r-squared correlation on the two data sets, you get 0.0005, which is effectively uncorrelated. This shouldn't make anyone at the Brady Campaign too excited, because while it would seem that passing gun control laws doesn't make violent crime go up, it doesn't make it go down either. There's a much stronger correlation, for instance, between annual mean temperature of a state, and violent crime, which means global warming will surely kill us all.
UPDATE: It occurs to me that Justice Breyer seems to want a statistical based test for scrutiny for the Second Amendment. From the McDonald oral argument transcripts:
There are two ways. One is that — look at — all you have to do is look at the briefs. Look at the statistics. You know, one side says a million people killed by guns. Chicago says that their — their gun law has saved hundreds, including and they have statistics — including lots of women in domestic cases. And the other side disputes it. This is a highly statistical matter. Without incorporation, it's decided by State legislatures; with, it's decided by Federal judges.
I wonder how he would interpret this pretty damning data on the effectiveness of gun control laws.