After almost every air gun Silhouette match, we have long runs.  Long runs are where you try to score as many animals as you can in a row, up until the record.  If you shoot ten animals in a match, you can count those toward your long run.
At Today's Air Gun Silhouette Match, we manged to set a record.  Rowland Smith, this past Thursday, managed to break the Senior record for most number of pigs with an open sight pistol.  Pigs are at 12 yards, and about the size of a walnut.  After setting the Senior record for pigs on Thursday, today he broke his own record by scoring 40 pigs in a row in the long runs.  That's five away from the overall record, held by Dave Carpenter (45 pigs with open sights, no bullshit).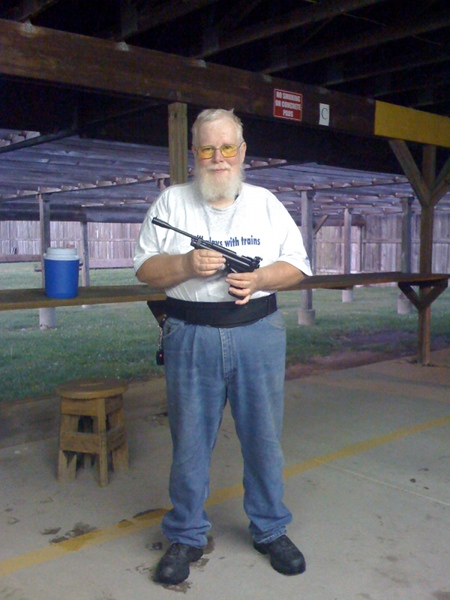 Rowland posing with "Lucky," his custom shop Crosman .22 Air Pistol, with a Williams Peep Sight.  Rowland has had a record that was somehow lost in NRA paperwork.  Let us hope they do not lose this one.  They better not lose this one.