Yet Miami Mayor Manny Diaz, president of the mayors' conference, says there is little time to spare. He says his group wants the assault weapons ban reinstated and federal legislation to limit gun purchases.

"Typically, when these things happen in our cities, statements are made, and then the issue goes away," he says. "It doesn't go away for us. We need help."
It won't go away for you until you have the courage to remove dangerous people from society, rather than trying unsuccessfully to remove dangerous objects.  We can't all live in a padded cell.  The really interesting bit of this article, though, is the graphic: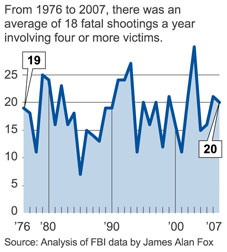 So we know these things a) are not new, and b) tend to spike with bad economic times.  All things considering, it's pretty clear gun laws don't have much of an effect.