Maybe my gut instinct wasn't as bad as I thought. Take a look at this handy map from the Philadelphia Inquirer: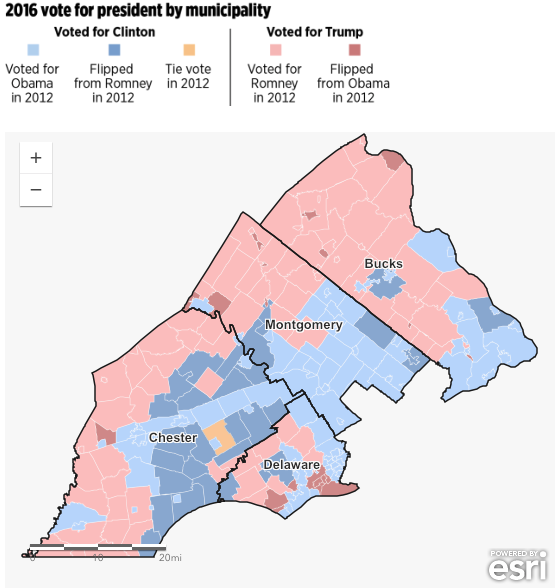 I grew up in that little sliver of Delco that flipped from Romney to Trump. I now live in the blue part of Bucks County. It's not unsurprising to me that where I grew up flipped Trump. There's a lot of working class union guys in that area, but they vote more independently of their unions if the candidate is right. Bucks County union guys, on the other hand, seem more inclined to vote with their union leaders, which you can see in Lower Bucks remaining blue. The solid blue places in Delco near the city are formerly white working class and were, as of a few decades ago, reliably Republican. As more people have moved out of the city, it's gotten more solidly Democratic. That's the part you see up against the city.
Montgomery County are almost all upper-middle class to stinking rich folks, not turning red until it gets farther out form the city. I'm not surprised there hasn't been much change there. But the blue definitely pushed farther out.
In Bucks, Lower Makefield and Doylestown Township both flipped from Romney to Hillary. The parts of the Main Line that are upper-middle class to filthy rich all flipped from Romney to Hillary (that's the dark blue part which you see going through Chester County, with the blue part actually following the rail line which built the Main Line). Chester County as a whole went blue this election, which they did for Obama once, but not a second time.
Across all the ring counties, the places that switched have one thing in common: lots of highly educated, upper middle class white people. The filthy rich neighborhoods have been blue since the first Clinton left office, and the suburban GOP political machines fell apart.
Pennsylvania didn't go red because the burbs liked Trump. It went red because turnout in Philly wasn't as high as the Dems needed to outvote the rest of the state, and the people in the T, who have been absent for a while now, actually turned out to vote this time. If trends in the ring counties continue, Pennsylvania will continue to solidify as a blue state, with the GOP getting less and less competitive in the suburbs. You T people better keep turning out if you want to keep your gun rights.