Last night was our annual Bucks County Friends of NRA banquet. Our last dinner was in 2014, because of burnout with the committee, we didn't have a dinner in 2015. We were happy to have 150 people show up, most of whom were new. We turned out more people than Shannon Watts did at her last protest! One thing I noticed is that the number of women attending is way up, and this year we had a number of younger couples, like 20s and 30s younger. We're not just attracting the OFWG demographic anymore. The community is definitely changing, or at least the people engaged with the issue enough to attend a fundraiser is changing.
Our rough estimate is that we raised $13000 for NRA Foundation programs. We've done better, and we've done worse. Overall, I think it was a good dinner for having skipped a year. Half that money stays in Eastern Pennsylvania, the other half goes into the Foundation's fund to fund shooting programs generally. Every year the Eastern PA committees meet to go over grant requests and decide who gets the money raised through these dinners. Youth shooting programs come first. You can read more about the Friends program here, or find a dinner near you.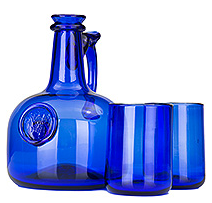 About a year ago I got tired of trying to win guns and losing, so I started putting all my tickets in to the cheesiest item on the table that no one else was bidding on. One year I got the NRA fan, which is actually a decent desk fan. This year I got the hand blown NRA wine decanter. Doesn't everyone need a hand blown NRA-branded wine decanter? Once you have one, you'll never know how you ever lived without it.
Disappointing this year was the NRA toaster. A few years ago NRA had a toaster that would toast "NRA" onto your toast. It was a two slice model, and it went for $400 dollars at the live auction. This year they decided to introduce the same toaster in a four-slice high-capacity assault configuration, and it only went for $110. Disappointing really.