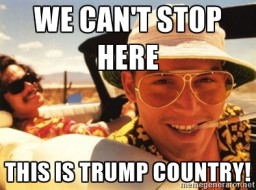 Upstate New York was Predictable Trump Country. I knew he was going to win New York, but he did well beyond what I expected. Upstate New York is in worse shape than Pennsylvania in a lot of ways, but I expect Trump will do well here. He does very well with working class people suffering under the blue state model, and Upstate New York fits that bill for sure. The article explains why Pennsylvania will be less receptive to Trump:
But it's also true that some of these places might yet be resurrected. In fact, some of them already have been. Two hours southeast of Binghamton, across the state line, is Williamsport, Pa., a town that was shrinking for fifty years but is now the seventh fastest-growing metro region in the country. It's unemployment rate is below the national average and future job growth there is estimated to be more than 41 percent over the next decade.
The difference between Binghamton and Williamsport is that New York banned fracking and Pennsylvania welcomed it.
Because New York is controlled politically by New York City, whose residents couldn't care less about the plight of working class stiffs. Pennsylvania can still outvote it's large cities, though with coal country in the southwest clearing out population wise, I fear for the future. There are a lot of parts of this state that are in just as bad shape as Upstate New York, and I expect Trump will do very well in these places on Tuesday. Those folks don't want to hear about what you'll do to reinvigorate small business, or listen to you talk about how much you love Jesus, or listen to politicians opine about who gets to use what bathroom. They want to know how you're going to make their lives better, and Republicans better have an answer to that if they don't want to head the way of the Whigs.