In the last post, I mentioned that a big problem with Ted Cruz is that I don't think he changes the red/blue electoral map enough to dig the GOP out of their current electoral hole. You hear about the GOP having a demographic problem, but if you ask me that demographic problem is society getting more and more secular, not less and less white. The strategy of running strong religious social conservatives, often from the south, and tailoring the campaign around themes that will please bible belt and heartland voters will at some point not work. This strategy has weakened the GOP's position among rust belt voters. So what's the rust belt? Basically the old industrial and mining areas of the north, probably best outlined by this map: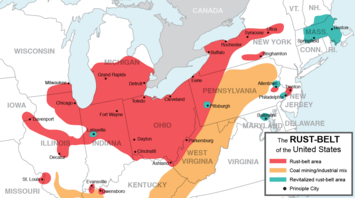 Rust belt voters are turned off by overtly religious candidates. Marco Rubio spends a lot of time talking about religion and talking about his faith. So does Ted Cruz. That's a big part of how both of them got bested out by Kasich in northeastern state. All Trump has done is say he's a presbyterian and flub a few bible verses here and there. That's not much of a bone for a dedicated bible belter, but it's enough for most rust belters. Rust belt voters still want their candidates to be religious, but not too much. They are skeptical of candidates who wear their religion on their sleeves. It's a hard thing to explain, but was probably best summed up by Glenn Reynolds more than a decade ago, expressing some skepticism about a religious revival:
After all, skepticism about religious talk, and religious talkers, is also an American tradition. Back in the comparatively pietistic Eisenhower years, when my mother told her father that she was planning to marry a seminary student, his response was pithy: "Preachers are a sorry lot." Remembering the preacher who used to help himself to the best pieces of chicken when he dined with my grandfather's large and impecunious family (as a child, my grandfather always got stuck with the feet or the neck when the preacher visited, and he remembered that his whole life), he regarded preachers as socially acceptable parasites, who would be better off earning a living out in the world, as he had always had to do, instead of dressing better than their parishioners and telling other people how to live.

That's a longstanding strain of American thought, too. In fact, the traditional American attitude toward religion — and especially religion in politics — might be summed up this way: "Religious, but not too much."
This kind of attitude is most definitely found more prominently among the working class or recently working class rust belters. The more politicians sound like preachers, the more this very deep and old instinct gets triggered. Then you get working class voters not turning out for the GOP in Ohio and then another four years of a Dem in the White House. Trump, born wealthy and having gone to elite schools may not be one of them, but he's speaking their language, and channeling their deep anger at what they think has been done to their country by both parties. If the GOP can figure out how to recapture rust belt voters in large numbers, you could see states like Ohio, Michigan, Wisconsin, New Hampshire, and Pennsylvania very reachable for the GOP. That would change the map in a way that would make the Democrats have to climb out of a hole every election. They could get there, but they won't pandering to religious conservatives.
If Trump wins the nomination, and then the White House, the GOP will never likely be the same again. Whether it will be better, I can't say, but it'll definitely be different.