Tam has been carrying a SureFire E2D Ultra, and comments that the switch design leaves a lot to be desired. I carry a Fenix LD10, showing here: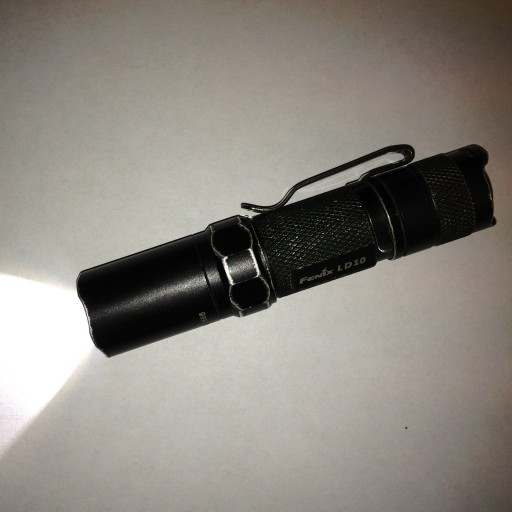 It's a bit more worn than that today, and in truth it's probably out of date. With the Fenix, you adjust the intensity by screwing out the lens a bit. That's fine when you have both hands, but sometimes you don't, so I leave it on the highest setting. The big issue leaving it on high is the on switch, which is on the butt of the flashlight, gets switched on when I sit down sometimes. It can either engage furniture or engage the sheath of my Leatherman. Now, give it 10 minutes or so, and I'll usually notice, "Something feels warm in my pocket, and I know it isn't that, so the flashlight must have gotten stuck on again." I've had batteries drain completely in this scenario, and it happens often enough I now use NiMH rechargeable, and just change them regularly. I use the flashlight multiple times a day.
Ideally I'd like a flashlight where I can turn on and off, and change intensity using only one hand. The SureFire E2D Ultra looks like it might be a solution. It would seem the solution to Tam's issue would be to make it a one second double click instead of two. Maybe even half a second. I can double click a switch a hell of a lot faster than I can move my whole body. Perhaps a microswitch could be fitted somewhere inside that allows the user to adjust the double click speed.