A few months ago, our club started putting in gongs for members to shoot at on both the 100 yard and 200 yard rages. I thought this was a great idea, because I'm a big fan of reactive targets and getting people exiting about putting bullets on steel. But we've had problems with the frames getting shot up on the 100 yard gong. There have been suggestions that people are using AP ammo on the gongs. I have some experience shooting steel, but mostly with pistols and .22LR. I'm pretty sure AP will punch through 3/8 AR500 steel. Plus, AP just isn't very common. The most common is M2 AP, and it's not so common you'd want to target shoot with it. It's my opinion the craters on the gong are from steel core ammo, and the small divots are from regular old 5.56x45mm. The gong is made of AR500 steel, 3/8″ thick.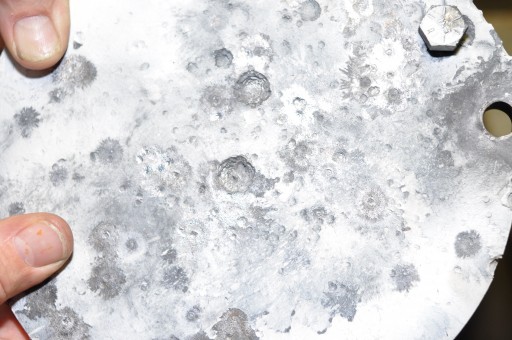 The frame holding the gongs up is mild steel bar, about 1/2 inch, and took this damage: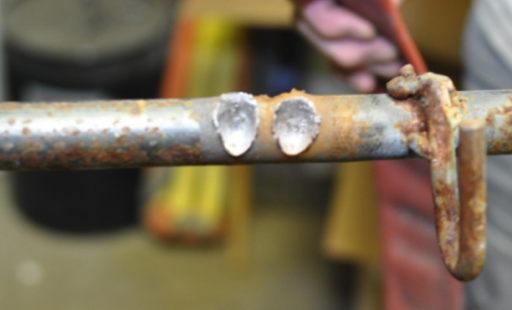 I asked Joe Huffman, who has a lot more experience with this kind of thing than I do what the damage looked like to him, and he was kind enough to run an experiment. Sure enough, regular old .223 rounds will shoot right through mild steel, while pistol ammunition will just polish it. Looks to me like these are rifle hits, with just ordinary ammunition. I'm thinking we may want to acquire one of these armored stands from Salute Targets. We expected this to be a maintenance items, but so are wooden target frames, and people like to shoot the gongs. There's also speculation among club leadership that some of the damage is deliberate. I'll admit the tight group on the bar right where the straps were is suspicious, but I'd hate to see someone brought up on charges and booted from the club for poor marksmanship. I'm also thinking we might need to ask members not to shoot at the gongs with steel core ammunition.
If anyone else can offer their experience, I'd be appreciative.