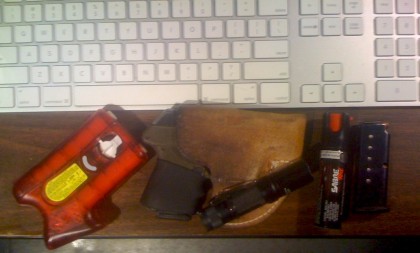 In the comments over on a previous thread, HappyWarrior offers what I'll call the lament of the non-gun-ninja, regarding the burden of carrying around all the equipment advice on the Internet would have you carry if you took it all seriously. I can sympathize, because I'm no special gun carrying ninja. We all have to make tradeoffs, and it's OK to make those tradeoffs. It's your life, not someone else's.
There are only two things on my belt at all times, and that's a Leatherman multi-tool and an iPhone. No, I don't carry a tactical folder anymore. Why? Because I can't carry it everywhere, and I use the Leatherman enough that grabbing it and one handed opening is quite natural to me. If I'm leaving the house, and it's winter, and sometimes in summer, there will be a Glock 19 on the belt in a Comp-Tac Infidel holster just behind the iPhone.  Tactical advice is to "dress around the gun," but realistically, there are times you can't do that. Tactical advice will dispute this, but it's your life, not someone else's.
I'm not carrying the Glock, it's an LCP in a pocket holster in the strong-side pocket. I'm usually carrying OC spray in the weak side pocket, along with a flashlight clipped to the pocket, and a spare magazine for the LCP. If it's winter, the OC goes in the weak side coat pocket so my jeans pocket only has the reload and flashlight in it.
Yes, I realize this is not very "tactical," and I'd be fumbling for a reload if things end up going pear-shaped, but if things end up going that pear-shaped and all I have is an LCP, I'm already figuring I'm pretty well screwed to begin with. It's all trade-offs, and only you can make them. Sometimes I don't even carry, which is the biggest tactical sin of all!
And why do I make these tradeoffs? Because I can't run around looking ridiculous with half a dozen things clipped to my belt in summertime, and having to dress around the gun. Yes, my professional reputation and that of my company are more important than the very unlikely event that I find myself in a situation where a firearm would come in handy. That said, I manage to successfully carry something most of the time I'm out of the house.
But I don't feel bad about making tradeoffs to accommodate life. You shouldn't either. As Tam's original post noted, you should just understand and accept the risk those tradeoffs impose on you.