Nov 6, 2014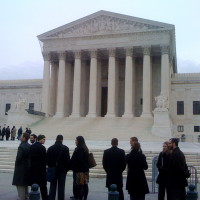 There is some discussion in a previous post about how a ballot measure, passed by a rationally ignorant electorate, the vast majority which never actually read the measure, could possible be legal. I share their disdain for the ballot. Our founders were rightfully quite skeptical of direct democracy, and one needs to look no farther than California to see how the ballot has essentially caused more trouble than it's saved. It's bad enough we have politicians that pass laws they don't understand without reading them, but at least we can kick them out of office for it. Putting measures up to ballot is just a case of the elite manipulating the ignorant.
I would argue that ballot initiatives are unconstitutional under the Guarantee Clause of the federal constitution. Unfortunately, when the United State Supreme Court decided to look into the issue of whether the ballot was a violation of this clause, it weaseled out, and ruled the Guarantee Clause was purely a political matter, under the jurisdiction of the other two branches.
I do think there might be a court remedy for I-594, but I don't believe the courts would ever strike down background checks, even for private sales. But we may have a chance in arguing the statute is overly broad, and covers too many constitutionally protected activities, such as a temporary loan of a firearm to a friend or family member, even for protected educational purposes under the Second Amendment. But I also do not believe we have enough firm case law currently to make that argument right now. For now I think Washingtonians are stuck with what the voters have done to them.
23 Responses to "Should Ballot Initiatives be Unconstitutional?"