Nov 7, 2014
Sebastian noted that Bloomberg has rated his top priorities for the next gun control ballot initiatives. The Brady Campaign is quick to follow with their promise to ride his coattails.
However, they want more. They want far more than what Bloomberg is willing to fund right now. They released this map that shows all of the states they want to target in coming years with gun control ballot measures.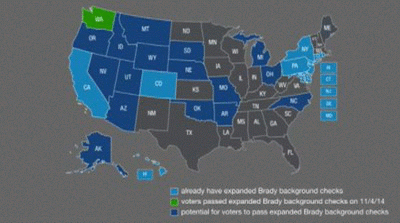 Maine isn't highlighted because the Brady Bunch decided to go with a flashing GIF that colored target states blue one by one and I didn't quite act fast enough to capture it in time. I didn't care enough to try again.
Regardless, I wouldn't completely write this off if you're in a deep red state that they have colored dark blue on this map. Plenty of gun owners are willing to believe that these laws only target "bad" people and that they aren't really efforts to entrap otherwise law-abiding people who just get mixed up with what's allowed and not allowed. Do not assume your state is immune.
19 Responses to "The Future of Ballot Measures"