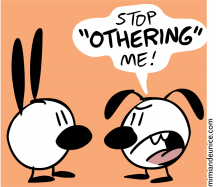 I had originally wanted to get this into yesterday's post, but I couldn't make it work without descending into "let me ramble on semi-coherently about yet another thing." That's a blogging style that I'll leave to the resident expert, Brady Board Member Joan Peterson. In any kind of political fight you're usually going to see both sides engaging in "othering," namely setting your opponents outside the class of reasonable people, and often, even outside the class of people.
Most of us find it highly insulting, and I'm certainly no exception. I don't like being compared to an unthinking animal, to the bottom rungs of society, or the lowest of the low any more than other people do. I don't particularly appreciate seeing my liberty interested boiled down to some faceless "corporate gun lobby," nor do I like seeing my views misrepresented as supporting "deep pocketed gun manufacturers," or "merchants of death."
But there's an important strategic reason that they engage in this, and that's because, "Hey, let's go take away something important and meaningful from your friends, family and neighbors," doesn't have quite the same motivational ring as, "Let's go stick it to those dumb, ignorant, stooges of the merchants of death!" That's the first strategic goal of othering; people need an enemy and villain. Your friends, family and neighbors don't make great enemies and villains unless you're demented. So you have to be convinced that "those people" aren't any of those things. For us, Bloomberg makes a great villain. He others himself. How many of us have megalomaniacal billionaires as friends, family or neighbors? No one? Yeah, that's what I thought.
But there is a second prong to othering, one that can be introduced through this article by Tony Canales that speaks of liberal gun owners:
Writer Christopher Ketcham essentially comes out of the gun-ban closet and admits, openly, that as a Way-Lefty he and a number of his friends still like their guns. Furthermore, the reasons to have firearms  essentially parallel the very rationale of the Founding Fathers, that being of the need for the average citizen to oppose governmental tyranny as well as having the ability to defend oneself when being confronted by criminals and wildlife bent on harm.
The other purpose of it is to silence those people on your own side of the cultural divide for fear that they will be likewise othered into the negative cultural stereotype. In short, othering helps keep liberal and moderate gun owner's mouths shut, and prevents them from speaking out. Anything we on our side do that makes people feel uncomfortable about joining us (I don't know, like carrying AR-15s to Chilis at the low ready) only helps the other side other us.
But there is a downside to othering for our opponents: the crap they say about us is highly antagonistic to ordinary gun owners. Their othering can be a powerful means to bring more people into political engagement with the gun rights issue. When they accuse NRA of being "the corporate gun lobby," it might be laughably false, but most gun owners aren't NRA members. When they mention that gun owners only live in places that don't have roads, are stupid for owning guns, and presumably also lack proper dental care, that insults about 80 million Americans, which is well more than half of the electorate if they all voted. Our opponents have a habit, going back many years, of taking things too far, of overreaching, and losing. What I worry about is seeing the same thing on my side of the issue.
So "othering" is a tactic that pretty much everyone uses in political battles. It's distasteful, but it's reality. But one can take it too far, and fortunately for us, our opponents do a lot of the hard work for us when it comes to bringing more people into the issue. I think it's wise to keep their folly in mind when we look at our own side's behavior.