The days are definitely starting to run together now. I just need to drag myself out of be early enough to hit the floor before the big crowds for more pictures. The main event today was the actual NRA Meeting of Members which I already live blogged.
I'm not the only person who thought that Wayne LaPierre's Dylan Thomas paraphrase sounded very familiar. So, to whoever wrote that line of Wayne's speech while watching Independence Day the movie, I'm just glad that you knew to cut it off before the lines about the world uniting on our Independence Day.
After the meeting let out, we finally set out to roam the convention hall where you can find every shooting need you might ever have filled. For example, I checked in with Sig about my pesky night sights that I've never been satisfied with on my P239. (Answer: I need new sights and so I should just call them.) I also discovered a need for a radioactive prairie dog target. (At least, I assume the prairie dog is supposed to be radioactive since it's glowing bright yellow.) Those of you who have discovered the need for this crazy little target along with me can get it online – radioactive glowing prairie dogs for sale by mail!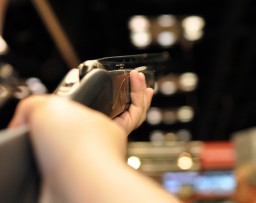 In addition, I had to visit the Browning booth to drool over my true love in the shotgun world, the Cynergy. I love the Cynergy because it's just soooooo pretty. To make it worse for Sebastian, he thinks it's horrible that I love it even more in composite.
Sebastian also checked out several other booths where I was only dragged along as photographer, so I'll leave those posts/product reviews up to him. Regardless, we definitely hit just about every corner of the show. Tomorrow is a chance to go back to a few targeted booths and then make sure we actually hit every corner of the show.
We also had a chance to crash a conversation with Bob Owens of BearingArms.com and Charles C. W. Cooke of National Review, as well as catching a second with Rick from Legally Armed in Detroit.
Finally, the item probably of use to some of you, is the tweet I sent earlier with the list of cities for upcoming NRA Annual Meetings.
Future planning for #NRAAM – 2015 Nashville, 2016 Louisville, 2017 Atlanta, 2018 Dallas.

— bitterb (@bitterb) April 26, 2014
Beyond that, it was a little casual conversation on grassroots-related topics with the NRA grassroots staff and then wrapping the evening up with drinks with scholars and lawyers who sometimes just like to talk about guns seen on the show floor. Oh, and Ed Friedman, Editor of Shooting Illustrated, joined us for a bit and informed me that my shotgun crush on the Cynergy is totally worth it.