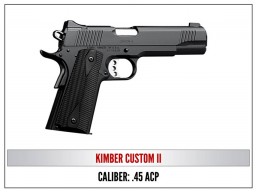 Guess who still has tickets available for a gun drawing? That's right, my local Friends of NRA committee.
We've got 5 guns to draw for, including the Kimber featured here. There are also two Kahr 1911s, a Taurus, and an AR. With a maximum of 300 tickets sold for just $20 each, the odds for each ticket are just 1 in 60 to win a gun. There aren't many chances to beat that.
As mentioned before, there are no online sales. But, if you want a ticket, just shoot me an email and I'll let you know how you can buy one (or more if you want to increase your odds of winning).
The rules about FFLs and all that good stuff are in the linked post, so go check it out if you have questions.