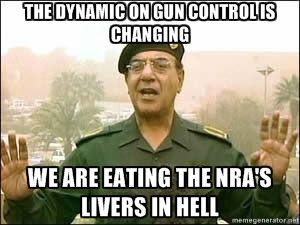 I can believe a lone story about NRA's demise, but when two sources write essentially the same story, someone is shopping this meme around. The first question is who, and the second question is why. As Joe points out, NRA has had a banner year, and so did other groups. Who's passing these articles around to media outlets is hard to say, and speculation wouldn't accomplish much. But I will speculate on the motive. No one wants to sink time, resources or money into a cause that they think is lost. This is aimed more at convincing the supporters of gun control than it is anyone else. If they are to build a grassroots movement, they first have to convince people that the cause is not lost, and that it is winnable. I suspect a lot of groups are seeing interest in the topic fade. The media certainly seems to have moved on to other issues, given that I've seen a precipitous drop in news stories about gun control. This is worse news for our opponents than it is for us, so you get the Baghdad Bob routine. This is probably a good sign things in the gun control movement are not as swell as they are making things out to be.
Bloomberg's money can still certainly do a lot of damage, but only in the sense that the ads he finances can help paint candidates and politicians as being out of touch with the mainstream, and only as far as he can conceal who's financing the ads. What they need genuine grassroots activism, but that's hard to come by when people think gun control is a lost cause.
UPDATE: The Philadelphia Daily News throws in their two cents as well, on the demise of NRA meme: "Have six sweeter words ever been uttered?" I can think of six words to describe this article, but none of them are sweet.
UPDATE: The Guardian joins the meme.