While MAIG & Mike Bloomberg are trying to make it sound like it's no big deal for people to find an FFL to handle every single firearm transfer. MAIG seems to be the go-to group for the White House, and yet President Obama has previously called for a ban on any FFL within 5 miles of any park or school.
Below is a graphic I created in 2008 as an example of what such a ban would mean for one area gun shop to show the impact for our suburbs. The areas covered in red would be off limits.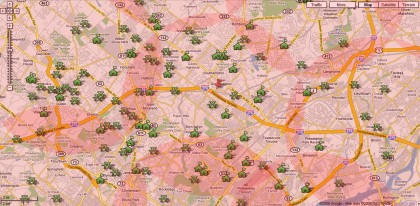 This proposal backed by the President would effectively shut down nearly every single gun store in the nation. While I realize that the gun shop ban hasn't been in the latest round of gun control proposals, it has been a serious proposal by the President in the past. Considering that the background check bill floated in the Senate doesn't open up the system for individuals looking to transfer a firearm, but rather forces them to go through FFLs, it isn't inappropriate to consider whether a future step would be to target these gun shops for closure so that it is nearly impossible to transfer firearms at all.