Mike Bloomberg's group, MAIG, tells the public that they just want to do things like mandate background checks for all gun transfers. That sounds harmless enough, but then their graphics department creates "scare graphics" to remind people that guns are everywhere and even they live near a gun shop!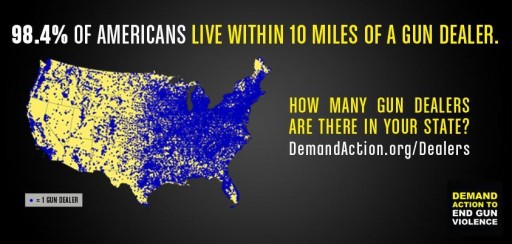 It seems as though MAIG wants to promote commercial-only gun sales, yet then they turn around and use scary-looking graphics to remind anti-gun Americans that guns are lurking nearby. They try to tell us that we should only buy from gun shops, but they try to scare the low information voters with the number of FFLs in the country. If this graphic wasn't meant to be scary, then it would say at the bottom something along the lines of, "So tell those Bible-thumping, second grade dropout rednecks to get their fat asses to their local gun shop when they want to pass that gun on to Toothless Billy Ray."*
*While not actual language Bloomberg would say in public, it may represent what is actually going through his head.