The Brady folks often can't talk about this issue without spinning a tale. I think what often surprises me is that sometimes the data can make a case for them, even without the tale. It's like they are so strongly committed to the deception, that they can't break their mental mindset. Such is the case with this latest article, guest written by Griffin Dix, Ph.D, talking about how wonderful California's gun laws are. A model for the nation:
Before 1997 California's firearm mortality rate was consistently higher than that of the rest of the nation. But as California's gun laws took effect the state's gun death rate dropped lower. Of course many factors besides gun laws affect firearm mortality rates.
There's that sleight of hand again, discussing firearms mortality rates, of which the vast majority of which will be suicides. But if you look at overall violent crime and murder, from the data appearing at this source here, and here, you can see that California still has a violent crime rate significantly higher than the nation as a whole, despite the fact that the vast majority of the rest of the population lives under what Brady would classify as unacceptably weak gun laws.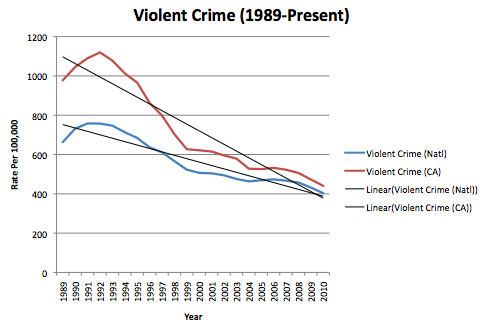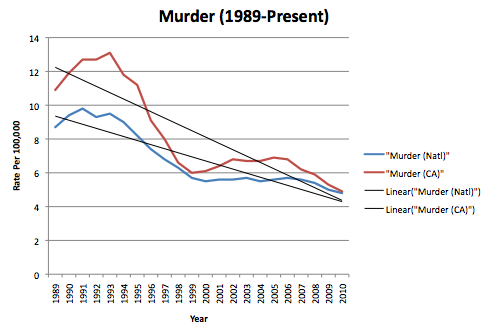 Perhaps it is a desire on the part of the Bradys to make gun control look more miraculous. Maybe they feel it doesn't make for so compelling a case to suggest that California's murder and violent crime rates are indeed dropping faster than the rest of the nation, without controlling for other factors. Or perhaps they recognize the number of potential donors impacted by suicides is larger, and wish to cultivate that potential donor pool more than victims of criminal activity?
UPDATE: I used a stacked graph by mistake, so the numbers were shifted. It is corrected now.