Mar 14, 2012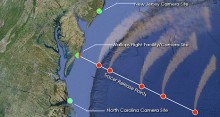 If you live in the Mid-Atlantic area, New England, or the Eastern Shore of Virginia and North Carolina, NASA is going to be launching 5 suborbital sounding rockets in 5 minutes from its Flight Center in Wallops, Virginia. The project is to study the winds in the upper atmosphere. They will be releasing a chemical marker that will be visible to just about anyone in the viewing area. Those of you who are conspiracy theorists may want to ensure that your tin foil hat is securely fastened before viewing the chemtrails.
I'm looking for a place to watch this. The ideal place, that's not terribly far, would be the Jersey shore, so I'm toying with the idea of heading over to Seaside Park and watching it from the Boardwalk. But I'm not sure I want to do a three hour drive in the middle of the night to Benny central. Though, given that's it's March, it's probably only locals this time of year. The problem around here is trees. There's not many places in Bucks you can get a good view in that direction without trees, and Bowman's Hill Tower is closed at that time of the night.
UPDATE: Mission scrubbed for tonight. Maybe I'll go to Virginia to watch it!
9 Responses to "Watch 5 Rockets in 5 Minutes"