It's no secret that I'm mystified by the current efforts by the Brady Campaign to retweet various people in favor of gun control while ignoring their other bizarre or hateful recent tweets. Regardless, none of that holds a candle to what has come out of the Brady headquarters in the last few days.
Rick Perry Report
I complained about it on Twitter. I struggled to read it without beating my head against a desk. Finally, I had to take the red "pen" to it. If a Brady staffer were to tell me that they actually bothered editing this thing before they released it, I would say it's time to fire everyone. There's no excuse for something riddled with so many errors and inconsistencies coming out of any organization with paid staff, especially since a number of those staff are paid to do nothing but produce professional materials.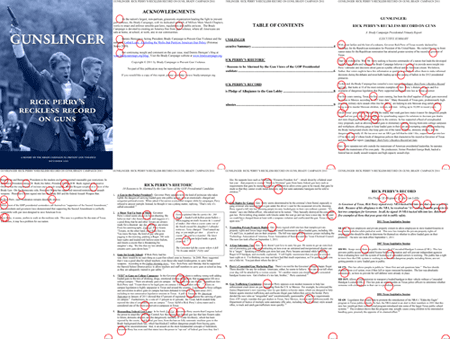 I do realize that even professionals make mistakes. Lord knows that I've made my share. Given that this blog is something we do casually, you'll find plenty on here if you look closely. Regardless, if someone handed me this as even a rough draft in a professional setting, they would likely find a bunch of red marks on a paper with a note for them to start over before I even attempt to do anything with it.
The most common mistake is a lack of consistency in style. Inconsistent Oxford comma usage, improper titles, and formatting issues are abuses one can find on every page except the front cover and table of contents. Well, even the table of contents has formatting problems. In addition, there are random sentence fragments, redundant phrases, and grammatical errors. (Yes, the image of the report is impossible to read for a reason. First, fair use. Go visit the Brady website to read their train wreck of a report. Secondly, I won't do the job they are paid to do for free and let them benefit.)
Can We Not Agree on the Basics?
There is one area where I feel we should be able to reach out to the Brady Campaign and agree. It's about the fundamental meaning spelling of amendment.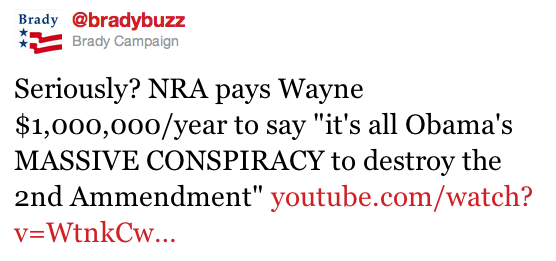 Alas, no. We cannot even find common ground in spelling rules. Call me a radical if you must, but I will not simply agree to disagree on this important component of our Bill of Rights.
It's Not Just the Typos
I think the most startling changes to the Brady Campaign public relations efforts since Peter Hamm left are just how childish they have become when it comes to issues they should be taking seriously.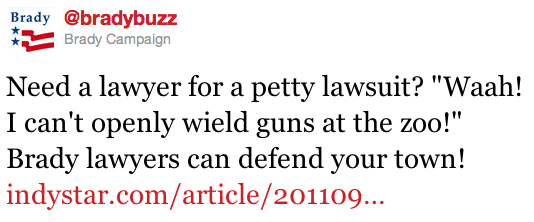 You don't exactly see us as the largest advocates of open carry for activism purposes, but even I find this tweet by the organization to fall somewhere below sticking our your tongue on the maturity scale. If they are offering legal support services to cities who want to enforce their gun laws, then it shouldn't be sarcastic or condescending. In fact, I know some city officials have questioned the Brady's sincerity in being willing to fund legal issues that may arise from passing local gun control laws. This kind of message reiterates that those pledges aren't to be taken seriously.
Conclusion
I realize that I shouldn't try to step in and help out our opponents. That's not what I'm trying to do at all. I just can't help but point out how bad it has truly gotten for them that they have been reduced making to more mistakes in a week than most of the top unpaid, unedited bloggers produce in a month. While I wish they would stop exposing me to these glaring errors that I find painful to read, I can't complain about the fact that they are most likely driving away any middle-of-the-road or undecided folks who simply won't continue to read such unprofessional work.